Events
The Centre for Culture and Technology organises numerous events throughout the year. Our members also speak at events nationally and internationally throughout the year.
---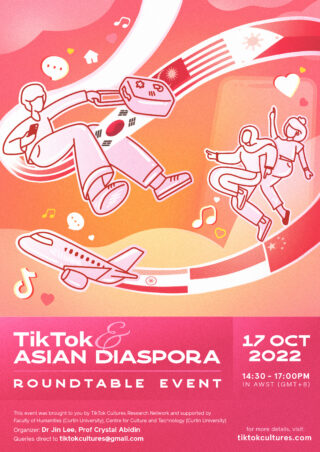 TikTok & Asian Diaspora Online Roundtable Event
Monday 17 October 2022
With the increasing popularity of the platform, TikTok has been considered a place for people in marginalized communities, like Asian diasporas around the world, to talk about their life struggles, raise their voices against racial discrimination often instigated by situations like COVID-19, and obtain visibility in media culture. This half-day online-only Roundtable will feature three sessions where TikTokers, community and industry professionals, and scholars discuss the past, the present, and the future of Asian diasporas and TikTok cultures.
The full program and further information can be found here.
Event recordings on YouTube
Meaningful conversations about the present and the future of TikTok cultures and Asian diasporas
Panel 1 – Introduction and Academics
TikTok Cultures Research Network in discussion with academics Dr Tara Ross, Dr Earvin Charles B. Cabalquinto and Dr Satveer Kaur-Gill. Moderated by Dr Jin Lee.
Timestamps
0:00 – Introduction and Housekeeping
8:05 – Panel Introduction
10:41 – Discussion
39:55 – Audience Q&A
TikTok Cultures Research Network in discussion with TikTokers Pele, Palak & Molly and Korean Billy. Moderated by Dr Jin Lee.
Timestamps
0:00 – Panel Introduction
2:05 – Discussion
34:35 – Audience Q&A
Panel 3 – Industry and Community
TikTok Cultures Research Network in discussion with people from Industry and Community – May from Gushcloud Thailand, Shikha from Pardesi and Shaun from BordersLess. Moderated by A/Prof Crystal Abidin.
Timestamps
0:00 – Panel Introduction
2:38 – Discussion
34:42 – Audience Q&A
---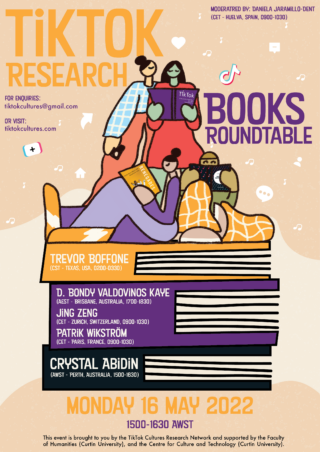 TikTok Cultures Research Network fifth virtual event
The TikTok Cultures Research Network is pleased to announce our fifth virtual event TikTok Books Roundtable on 16 May 2022 featuring the authors of the first three academic books on TikTok.
TikTok has become one of the most widely used short video platforms around the world and a key site of study for students, researchers, and scholars. This event features a moderated discussion with the authors of the first book-length investigations into TikTok. Trevor Boffone author of "Renegades: Digital Dance Cultures from Dubsmash to TikTok" (2021); D. Bondy Valdovinos Kaye, Jing Zeng, and Patrik Wikström authors of "TikTok: Creativity and Culture in Short Video" (2022); and Crystal Abidin author of "TikTok  and Youth Cultures" (2023).
This 1.5-hour virtual event will take place via Zoom on 16 May 2022 at 1500-1630 (GMT+8) and will feature a brief introduction of the three books, a moderated panel discussion between the authors, and an audience Q&A. The event will be moderated by Ms Daniela Jaramillo-Dent.
We invite professionals from media industries and social media industries, students and researchers in academia, and members of the general public to attend this event.
The event recording can be viewed here on YouTube.
Timestamps:
Event introduction (A/Prof Crystal Abidin): 0:00:00
Welcome to Country (Prof Simon Forrest): 0:01:32
Network Overview (A/Prof Crystal Abidin): 0:03:45
Panel Introduction (Ms Daniela Jaramillo-Dent): 0:07:45
Book 1 Overview (Dr Trevor Boffone): 0:12:00
Book 2 Overview (Dr D. Bondy Valdovinos Kaye): 0:18:00
Book 3 Overview (A/Prof Crystal Abidin): 0:24:00
Moderated Q&A (whole panel): 0:30:00
Audience Q&A (whole panel): 0:55:10
Event close (Ms Daniela Jaramillo-Dent): 1:19:00
This event was brought to you by the TikTok Cultures Research Network and supported by the Faculty of Humanities (Curtin University) and the Centre for Culture and Technology (Curtin University).
---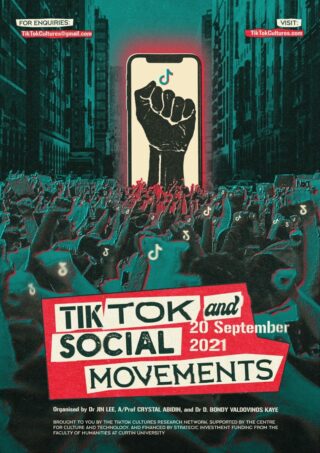 TikTok and Social Movements
half-day symposium, 20 September 2021
Open for Registration more information and registration go to TikTok Cultures website
________________________________________
Call for Papers: TikTok and Social Movements Symposium
Submissions close 6 September 2021
The recent growing popularity of TikTok has transformed the cultures and practices of social movements online worldwide. Despite several concerns towards the app, regarding weak security (Chae, 2020; Dziedzic, 2020), moral panics incited by malicious content on TikTok (Purwaningsih, 2018) and some countries' (temporary) ban on the platform (e.g. Indonesia, Pakistan, India), TikTok has rapidly grown as the "hottest app of 2020" in the world (Brigham, 2020). Its functionality (e.g. short-video, voiceover, meme template, background music, duet, hashtag) and unique genres (e.g. dance, comedy, social media challenge) have expanded existing social media cultures and enabled users to engage with other users, social issues, and even misinformation and online toxicity with ease and fun.
As part of such cultural moves, TikTok users establish their vernacular cultures and find their meaningful use of the platform by leading or participating in various types of movements for global awareness, social change, and civic politics. This includes Young TikTok users' climate activism (Hautea et al., 2021); Growing anti-racist movements, such as the continuation of "Black Lives Matter" on TikTok (Janfaza, 2020; Richardson, 2020); and emerging hashtag streams like #StopAsianHate in response to increasing violence against Asians in the pandemic (Hanson, 2021).
The affordances of TikTok provide room for creativity with music and filters powered by AI technologies, which facilitates the formulation of identity politics and cultures. Recent examples include Young Indian women's lip-syncing to Bollywood songs against the caste system (Subramanian, 2021); LGBTQI+ users' use of various filters to advocate for diversity (Simpson & Semaan, 2021); Young users' meme cultures (Zeng & Abidin, 2021) as consciousness building work (Anderson & Keehn, 2020; Literat & Kligler-Vilenchik, 2019); Older generations' collaboration with younger generations (Hood, 2020). However, social movements on TikTok are not always specifically targeted towards social justice, but may often also advocate for specific beliefs that mirror global politics, such as Anti-vaccine movements and distribution of misinformation (Basch et al., 2021); Far-right movements (Weimann & Masri, 2020).
Focusing on the newly emerging cultures on TikTok, scholars in Media Studies, Communication Studies, Sociology, and Anthropology also have begun to develop "TikTok Studies", looking for instance at emergent meme cultures on TikTok (Zeng & Abidin, 2021; Zeng et al., 2020; Zulli & Zulli, 2020), TikTokers as new types of internet celebrities (Abidin, 2021), users' music practices (Kaye et al., 2021), the emergence of new teenage pop culture (De Leyn et al., 2021), online learning on TikTok (Li et al., 2021; Literat, 2021), novel methodologies for TikTok (Schellewald, 2021), and the newly emerging geopolitics around the app (Gray, 2021).
In response to this expansion of scholarship on TikTok and alongside the TikTok Cultures Research Network's ethos to cultivate diversity and equity in academic scholarship, we will be holding a one-day online Symposium to showcase emergent research on the potentials, promises, pitfalls, and parameters of such social movements on TikTok. The Symposium seeks to provide a meaningful opportunity to reflect on the evolving cultures and practices around the civic and social movements on TikTok, wherein various actors on the platform across the globe advocate for social justice and specific values, develop grassroots networks and resources, and engage with others. We invite submissions on themes that include, but are not limited to:
• Politics, digital circulation, and/or economies of movements on TikTok
• Online activism, campaigns, and protest on TikTok
• Intersections of sexuality, gender, race, ethnicity, and more on TikTok
• Emerging TikTok practices and communities for advocacy
• Far-right, or alt-right movements on TikTok
• Roles and affordances of the platform technologies in mobilizing movements
• Surveillance of TikTok movements
• Consequences and pitfalls of TikTok movements
HDRs, ECRs (up to 5 years post-PhD + career interruptions), and scholars in/or from the Global South are strongly encouraged to apply. A selection of papers will also be considered for inclusion in a Special Issue tentatively entitled "TikTok and Social Movements" that will be published in a top-ranked peer-reviewed journal in the field of Media Studies, Internet Studies, and Communication Studies.
For consideration in this Symposium, please submit abstracts (up to 250 words) on previously unpublished papers and a short bio (up to 100 words) to TikTok Cultures Research Network (tiktokcultures@gmail.com).
Key Dates:
06 September 2021 – Abstracts and biographies due
08 September 2021 – Notifications of acceptance
13 September 2021 – Registration opens for non-presenters
20 September 2021 – TikTok and Social Movements Symposium, tentatively 1200–1600hrs, GMT+8
We look forward to receiving your submissions! Please contact TikTok Cultures Research Network (tiktokcultures@gmail.com) with any questions about this event.
This Symposium is the fourth event organized by the TikTok Cultures Research Network, an Asia Pacific-based Network dedicated to understanding and developing qualitative and cultural approaches to studying the impact of TikTok on society, founded by A/Prof Crystal Abidin and supported by a network of Founding Members in October 2020. This event is supported by the Centre for Culture and Technology, and financed by Strategic Investment funding from the Faculty of Humanities at Curtin University.
---
WACCM-AASRN Professional Development Symposium
A Symposium for the professional development of WA-based HDRs (Hons, MA, PhD), ECRs, and Sessionals will be held on Friday 2 July at Curtin University.  This event is jointly organised by WACCM (WA Communication, Culture and Media group) and AASRN (Asian Australian Studies Research Network). WACCM is a network set up by the four main WA universities (with Notre Dame recently joining) to improve networking and develop WA's research environment. AASRN is a research network for academic and community groups with interests in Asian Australian studies and topics.  The symposium will provide opportunities to network, speak to mentors, and sessions will cover topics such as research and methodologies as well as CV planning (pathways and options).
Please follow the link below to register for the Symposium on the Eventbrite registration page.  Registration closes 30 June and places are limited. We look forward to seeing you there!
https://www.eventbrite.com.au/e/waccm-aasrn-symposium-2021-registration-159948276601
---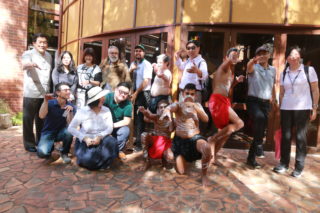 POSTPONED
for more information please contact Dr Huan Wu at huan.wu@curtin.edu.au
Representing the Past, Imagining the Future
U40 China-Australia Summer School and Conference 2020
Call for Papers
5 – 7 February 2020, Curtin University, Perth, Western Australia
Sub-themes:
• Digital cultural tourism,
• Creative technologies and innovation,
• Digital cultural heritage,
• Case studies about internet communication companies.
Organiser: Centre for Culture and Technology (CCAT), School of Media, Creative Arts and Social Inquiry, Curtin University.
Co-sponsors: Tencent Research Centre; China National Center for Culture Studies, Chinese Academy of Social Science (CASS); School of Design, Curtin University; Cultural Development Institute of Yunnan University.
Submissions are invited from Masters and PhD students and Early Career Researchers, carrying out research related to one of the themes of the conference.
Digital cultural tourism: Virtual and augmented reality, tourism apps and services; Indigenous creative industries.
Creative technologies and innovation: Smart cities and regions, digital apps and services, accessibility, ethics, and environment.
Digital cultural heritage: Civilisation, technology, digitalisation of culture, The Silk Roads.
Case studies: Analysis about the influence of China's internet communication companies and their products in domestic or global markets.
The three day program provides post-graduate students and emerging scholars from the Asia Pacific area, China and Australia with a valuable opportunity to share ideas with leading experts in the fields of cultural tourism, digital culture and creative industries. Students' papers will be mentored and developed for publication in (1) a special issue of Cultural Science Journal and (2) an edited book with a leading international English language publisher. There is also the opportunity for any relevant themed, high quality papers to be considered for publication in a special issue of the Journal of China Tourism Research on Chinese outbound tourism.  Any papers submitted for publication will be required to go through a review process according to the practice of the journal and there is no guarantee that submissions will be accepted for publication.
First step – applications should include:
• A Curriculum Vitae (CV);
• A 300 to 500 word abstract relating to new and unpublished research. The abstract should include a title, research question(s), a theoretical framework and research methods.
• All application materials should be in English. If you have a CV in Chinese, you can send it to us with a short bio in English.
Once you have been advised that your abstract has been accepted:
We will ask for further submissions about your research. You will then have two options:
(1) A full paper (unpublished).
(2) A Research Proposal (that is, an extended plan for a paper to be co-written with a mentor).
If you choose option 2, please follow this link and fill in the attached template.
Important Dates
Abstract Due: 15 December 2019
Acceptance notification: 22 December 2019
Full paper/Short paper due: 12 January 2020
All the above submissions and summer school enquiries should be directed to Dr Huan Wu, huan.wu@curtin.edu.au
Please note: Accommodation during the event will be shared, as in previous years. Alternatively, attendees are welcome to make their own accommodation arrangements.