Events
The Centre for Culture and Technology organises numerous events throughout the year. Our members also speak at events nationally and internationally throughout the year.
WACCM-AASRN Professional Development Symposium
A Symposium for the professional development of WA-based HDRs (Hons, MA, PhD), ECRs, and Sessionals will be held on Friday 2 July at Curtin University.  This event is jointly organised by WACCM (WA Communication, Culture and Media group) and AASRN (Asian Australian Studies Research Network). WACCM is a network set up by the four main WA universities (with Notre Dame recently joining) to improve networking and develop WA's research environment. AASRN is a research network for academic and community groups with interests in Asian Australian studies and topics.  The symposium will provide opportunities to network, speak to mentors, and sessions will cover topics such as research and methodologies as well as CV planning (pathways and options).
Please follow the link below to register for the Symposium on the Eventbrite registration page.  Registration closes 30 June and places are limited. We look forward to seeing you there!
https://www.eventbrite.com.au/e/waccm-aasrn-symposium-2021-registration-159948276601
---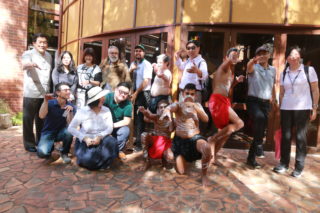 POSTPONED
for more information please contact Dr Huan Wu at huan.wu@curtin.edu.au
Representing the Past, Imagining the Future
U40 China-Australia Summer School and Conference 2020
Call for Papers
5 – 7 February 2020, Curtin University, Perth, Western Australia
Sub-themes:
• Digital cultural tourism,
• Creative technologies and innovation,
• Digital cultural heritage,
• Case studies about internet communication companies.
Organiser: Centre for Culture and Technology (CCAT), School of Media, Creative Arts and Social Inquiry, Curtin University.
Co-sponsors: Tencent Research Centre; China National Center for Culture Studies, Chinese Academy of Social Science (CASS); School of Design, Curtin University; Cultural Development Institute of Yunnan University.
Submissions are invited from Masters and PhD students and Early Career Researchers, carrying out research related to one of the themes of the conference.
Digital cultural tourism: Virtual and augmented reality, tourism apps and services; Indigenous creative industries.
Creative technologies and innovation: Smart cities and regions, digital apps and services, accessibility, ethics, and environment.
Digital cultural heritage: Civilisation, technology, digitalisation of culture, The Silk Roads.
Case studies: Analysis about the influence of China's internet communication companies and their products in domestic or global markets.
The three day program provides post-graduate students and emerging scholars from the Asia Pacific area, China and Australia with a valuable opportunity to share ideas with leading experts in the fields of cultural tourism, digital culture and creative industries. Students' papers will be mentored and developed for publication in (1) a special issue of Cultural Science Journal and (2) an edited book with a leading international English language publisher. There is also the opportunity for any relevant themed, high quality papers to be considered for publication in a special issue of the Journal of China Tourism Research on Chinese outbound tourism.  Any papers submitted for publication will be required to go through a review process according to the practice of the journal and there is no guarantee that submissions will be accepted for publication.
First step – applications should include:
• A Curriculum Vitae (CV);
• A 300 to 500 word abstract relating to new and unpublished research. The abstract should include a title, research question(s), a theoretical framework and research methods.
• All application materials should be in English. If you have a CV in Chinese, you can send it to us with a short bio in English.
Once you have been advised that your abstract has been accepted:
We will ask for further submissions about your research. You will then have two options:
(1) A full paper (unpublished).
(2) A Research Proposal (that is, an extended plan for a paper to be co-written with a mentor).
If you choose option 2, please follow this link and fill in the attached template.
Important Dates
Abstract Due: 15 December 2019
Acceptance notification: 22 December 2019
Full paper/Short paper due: 12 January 2020
All the above submissions and summer school enquiries should be directed to Dr Huan Wu, huan.wu@curtin.edu.au
Please note: Accommodation during the event will be shared, as in previous years. Alternatively, attendees are welcome to make their own accommodation arrangements.