ACAT Seminar Series
Seminar 11
Bates in the 21st century by Nick Thieberger

The Daisy Bates papers are a rich source of information about many different Aboriginal people and languages from the early 1900s. Bates was a controversial figure whose legacy is difficult to navigate, taking up 10.47 metres (55 boxes) in the National Library.
In 1904, Bates prepared a questionnaire with around 2,000 prompt words and sentences to be filled in with local Aboriginal people in their language. The present 'Daisy Bates Online' project has digitised, typed and put this material online. Representing 21,000 pages, this process has finally made it possible to search the collection and to present the text and images of the typescript and handwritten questionnaires together online. Each of the 150 typescripts has been geocoded so prompt words can be presented on a map.
The technologies used in preparing this data are the Text Encoding Initiative's (TEI) XML schema, RDF, SPARQL, XSLT, Xproc, with json and javascript for presentation.
In this talk I suggest that this is a model that can be extended to a larger set of primary manuscript records of Australian languages. The work provides primary sources together with an annotation, allowing users to judge for themselves how accurate the transcription is. At a time when increasing numbers of languages are being relearned from early sources it is important to prepare those sources for access and use.
Nick Thieberger is an Australian Research Council Future Fellow at the University of Melbourne, Australia.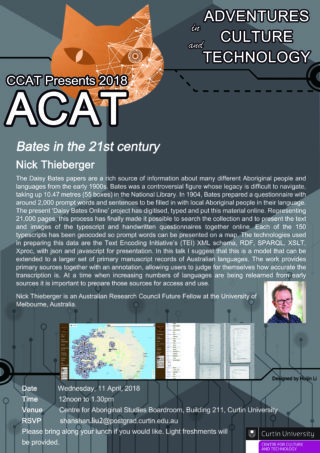 ---
Seminar 10
Metadata's Adventures in Culture and Technology: The work of cultural modelling and its effects on reuses of audiovisual heritage by Indrek Ibrus and Maarja Ojamaa

The focus of our presentation is metadata. More specifically, we will concentrate on metadata's modelling influence on the content of digital cultural archives and on the cultural realities that the content mediates. Proceeding from a general overview of the nature, kinds and functions of metadata, the presentation will tackle the phenomenon from different theoretical perspectives, some of which have rarely been seen in dialogue before. These include Foucault's groundbreaking revelations on the discursivity of the archive, Derrida's psychoanalytic take, the media archaeological propositions of Wolfgang Ernst, and the cultural semiotic perspective of metadata as metalanguage. In addition to the theoretical part, we present some empirical findings from two Estonian digital databases, where  different approaches to metadata have concurrently led to significant differences between the verbal past and the audiovisual past. In conclusion, we seek to explicate the implications of our interdisciplinary approach for understanding the relationship between digital networked archives and broader heritage-based innovation in culture.
Bios
Indrek Ibrus is a professor of media innovation at the Baltic Film, Media, Arts, and Communication School (BFM) at Tallinn University. He is also the head of Tallinn University Centre of Excellence in Media Innovation and Digital Culture. He has authored several publications on media innovation and evolution, media standardisation, mobile media, cross- and transmedia and data management. He advises on a regular basis the Estonian government, EU Commission and the Council of Europe on media and cultural policymaking. He holds a PhD from London School of Economics and a MPhil from the University of Oslo.
Maarja Ojamaa is a researcher at the Baltic Film, Media, Arts, and Communication School (BFM) at Tallinn University. She is also affiliated with the Department of Semiotics at the University of Tartu, where she defended her PhD thesis on the transmedial aspect of cultural autocommunication. Maarja's primary research interests lie in the transmedial mechanisms of cultural memory and in ways of diversifying the reusage of cultural heritage. In addition to her research work, she has been teaching semiotics-related courses at all stages of the Estonian higher education system as well as in high schools.