Past events 2019
---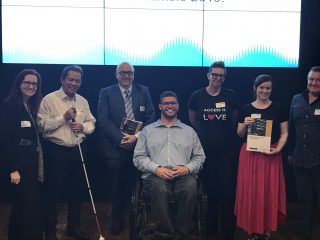 Launch of Audio Description in Australia
Wednesday 27 March 2019, 139 St George's Terrace, Perth
Its time for Australia to step up its game and provide audio description on free-to-air television.
Join researchers from the Digital Disability program in The Centre for Culture and Technology as they launch their project "Audio description on Australian television".  Australia is the only English Speaking country in the OECD not to offer audio description on free to air television effectively excluding people with vision impairments from accessing television.  However, researchers at Curtin University have discovered audio description might be the key to unlocking the future of television.
DADAA will offer live Audio Description services for this launch, as well as Assistive Listening via the Sennheiser MobileConnect app (available for iOS and Android). Download the app and connect to the DADAA WiFi network (available at the event) with your own mobile device. Please bring your own headphones.
---