ACAT Seminar Series
---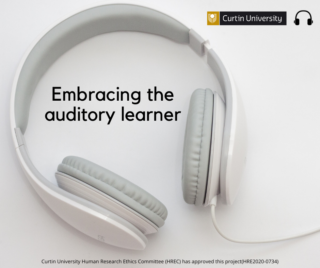 Embracing the auditory learner
Presented by Katharina Wolf
Online only, 12noon -1.30pm, Tuesday 12 December 2023
It is not necessary to register to attend this event.  Simply join us online on the day by following this WebEx link
This presentation reflects on the findings of our study into the perception, use and value of audio in higher education.
The use of audio in higher education is typically reserved as an alternative format for students with a vision based disability. While some students have always been auditory learners regardless of vision, the use of audio amongst the general population has also increased significantly during the pandemic as learners seek remedies for "screen fatigue".
Though digital accessibility continues to be typically focused on the availability of captions, the experience of an increasingly diverse student cohort suggests that audio also offers great potential for personalisation and accessibility.
To investigate whether this 'audio turn' is reflected in student learning preferences, we conducted a survey of Curtin students and staff while embedding extra audio learning options across several units. This included audio described content, an audio briefing for an assessment and verbal feedback on an assessment. We then conducted focus groups with the students in these participating units. Students were then invited to reflect on their experiences with auditory learning.
This project involved an interfaculty research team who teach units both locally and remotely at Curtin's international campuses, supported by the 2023 Faculty of Business and Law iSoLT Small Grants Application.
Presenters bio:
Katharina Wolf is an Associate Professor in the School of Management and Marketing at Curtin University in Perth, Western Australia, and Lead of the Faculty of Business and Law's public relations program.
Katharina draws on more than twenty years of communication and media experience, as an educator and industry professional. Her industry experience encompasses communication and research roles in Germany, Spain, the United Kingdom and Australia.
Katharina is passionate about student-centred and work integrated learning; a commitment that has been recognised with a number of local, national and international awards, including a 2011 Australian Learning and Teaching Award for Excellence in Teaching and the 2018 PR Educator of the Year award by the Public Relations Institute of Australia. She is a Senior Fellow of Advance HEA. In 2014 Katharina was named as one of the inaugural Fellows of the Curtin Academy, an active honorary network of exceptional leaders committed to and passionate about the collaboration and dissemination of teaching excellence at Curtin University. She is a co-author of Curtin's MKT2x Reputation Management in a Digital World MOOC, a finalist for the 2018 edX Prize for Exceptional Contributions in Online Teaching and Learning, and project lead of CurtinX's new Curate Your Personal Brand MOOC.
---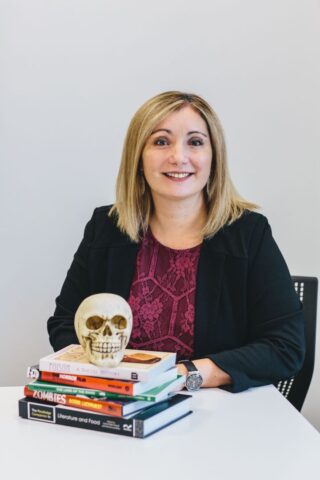 The Metal and the Flesh:  Exploring Superheroes, Disability, and Transhuman Liminalities in the Marvel Cinematic Universe
Presented by Lorna Piatti-Farnell
Tuesday 24th October 2023
The physically enhanced bodies of superheroes lie at the centre of their iconic difference, functioning as the source of their exceptionality and often exceeding the limitations of the human flesh.  This understanding of physical prowess has inspired the decades-long iconography that has painted superheroes – often problematically – as figures of extreme 'masculine vigour'. It is then within this dialogical space that discussions of disability become particularly salient, as the superhero's ostensive physical perfection is also exposed as inevitably entangled with ideas of ableism and bio-ethics, where understandings of what is 'normal' and what is perceived as either extra-ordinary or substandard mingle and merge. Taking these interwoven notions as  a point of departure, this paper explores the representation of disability in the Marvel Cinematic Universe. Superhero representation within the MCU is commonly entangled with the experience of loss and grief, which is often associated with changes to the body, both in terms of enhancement, as well as the outcome of injury and  torture. Focusing particularly on the figure of Bucky Barnes, the eponymous Winter Soldier of several narratives, the discussion in this presentation will explore intersecting notions of disability and disfigurement as markers of identity. Here, the idea of disability, and its association with prosthetics, is particularly shown as existing with complicated notions of monstrosity and fear. As a result, the very notion of humanity – especially projected as transhumanity, and even posthumanity – emerges as a slippery and contested epistemological area. The body of the techno-enhanced disabled superhero oscillates between humanity and Otherness, precisely because of its physiological liminality, pushing the boundaries of acceptability, as it also insistingly uncovers the fears and anxieties that surround the politicised experience of corporeality in our contemporary moment.
Bio:  Lorna Piatti-Farnell, PhD, is Professor of Media and Cultural Studies at Auckland University of Technology, where she is also Director of the Popular Culture Research Centre. In addition, she is an adjunct professor at Curtin University (Australia), President of the Gothic Association of New Zealand and Australia (GANZA), and the coordinator of the Australasian Horror Studies Network. Her research interests lie at the intersection of film, popular media, and cultural history, and include a focus on corporeality, horror, technology, bio-ethics, disability, eco-environmental studies, superheroes, and the Gothic. She has published widely in these areas, including volumes such as Consuming Gothic: Food and Horror in Film (Palgrave 2017), Gothic Afterlives: Reincarnations of Horror in Film and Popular Media (editor, Lexington 2019), and The Superhero Multiverse: Readapting Popular Icons in Twenty-first-century Film and Popular Media (editor, Lexington 2021). Prof. Piatti-Farnell is sole editor of the Routledge Advances in Popular Culture book series, as well as co-editor (together with Prof. Carl Sederholm) of the 'Horror Studies' series for Lexington Books.
---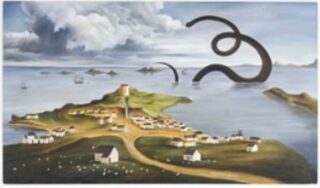 Digital mediums, deep mapping, the Swan River, community connections
Presented by Jo Jones
Thursday 19 October 2023
Deep mapping is an inherently multidisciplinary approach to place that conveys a vitally different experience of location – an approach that diverges profoundly to many modern modes of inhabitation. To deep map is to focus in depth on specific sites and regions. As Pearson and Shanks aptly put express it 'pays attention to the patina of place'. It, at once, invokes the 'ambiguous, the haptic, the opaque, the embodied, the in-between'.
The deep mapper is in search of the crucial connection between lived experience of specific environments to cultural practise and histories in moving, sinuous strands. It seeks what Tim Ingold calls the meshwork that binds place and inhabitation, the flow of space-time between material phenomena and vestigial and often amorphous traces of human and nonhuman habitation. It links past and present as a palimpsest or embedded way, interpreting 'the historical and the contemporary, the political and poetic, the factual and fictional, the discursive and the sensual' practitioners prompted me to consider editing and curation as a further form or 'variant' of deep mapping.
A notable synchronicity, when it comes to deep mapping, is how historically congruous this type of  place-based investigation is with recent digital mapping technologies that afford a single map to have multiple layers and including embedded sound texts and still and moving visual stories. Maps have become more "alive", more amenable to creative and interpretive sophistication.
This paper aims to explore the connections and potentials between the various narrative, affective and experiential texts that constitute a deep map. In this presentation I was discuss my on-going project that attempts to express deep mapping methods through smart device application – a "deep map app".
Bio: Jo Jones lives in the Perth Hills and, in recent years, has worked on the literature of rivers and the theory of deep mapping. Four Rivers, Deep Maps: Collected responses on rivers from the Perth region, Australia and Aberdeenshire, Scotland was published in 2022.
---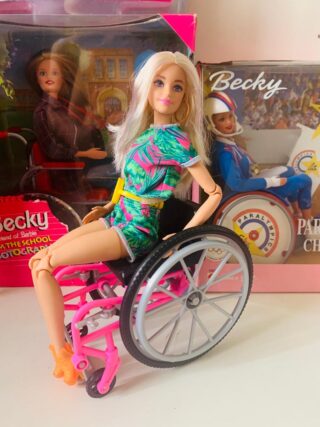 Playing with Barbie: Diversity and Inclusivity in the Toybox
Presented by Hersinta and Katie Ellis
Friday 8 September 2023
Play activities with toys give children joy while fulfilling their imagination. Toys also perform an educational function by representing social and cultural information. Through toys adults communicate what kind of world they think children should be prepared for, including complex issues on diversity and inclusivity. Barbie, one of the most popular dolls, has been heavily criticised for conveying problematic messages about race, gender, and body image to children. However, Mattel's 1996 "wheelchair" Barbie Share a Smile Becky has been positively remembered as a significant representation of disability within the disability community, albeit, not without its problems.
In 2019, Mattel produced a wider variety of Barbie dolls with disabilities to promote diversity and inclusivity. While these dolls were marketed globally, they were largely produced in Indonesia. In this country disability dolls began to be marketed as key to inclusivity. However, it remains unclear how toys and playing activities can be utilised to educate and advocate for disability in Indonesia – to normalising differences in a country where disabled people are still largely viewed as objects of charity.
In this talk, we will discuss how toys can educate children on issues of diversity and inclusivity. We argue that toys as a form of popular culture can create positive representations for disability. We explore the Barbie case study and how Mattel markets the ideas of multicultural representation through their dolls to the global market, including Indonesia. Finally, we will discuss the challenges and opportunities to promote disability-themed toys, including the factors in influencing decision-making of buying toys, and diverse cultural perspectives in Indonesia.
Biographies
Dr Hersinta is a lecturer at LSPR Communication and Business Institute in Jakarta, Indonesia, and an Research Associate at the Centre for Culture and Technology (CCAT), Curtin University. Her research interests including media and disability, autism and developmental disabilities in Southeast Asia. She has published on disability and media topics including autism and neurodiversity, assistive technology and toys and disability. Her recent works involve collaboration projects with Indonesian universities and organizations to develop assistive communication tool for autistics. She currently leads the Centre for ASEAN Autism Studies at LSPR Communication and Business Institute.
Professor Katie Ellis is the Director of the Centre for Culture and Technology at Curtin University and an internationally recognised expert on disability and digital access. She is the author or editor of 17 books with another three under contract. This includes two agenda setting handbooks and one major works series. As the series editor of Routledge Research in disability media studies she is curating a series of books that set the agenda for the next era of disability media studies. She is widely recognised as one of the most prominent international experts in disability media studies and regularly engages with the media on issues related to disability.
---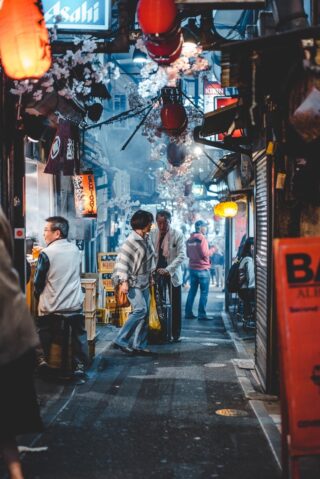 Cultural Experience Influencers and Agencies in Japan

 
Presented by Crystal Abidin
Monday 21 August 2023
This talk introduces a new concept of 'cultural experience' influencers and agencies, who are individuals and companies positioned to offer easily accessible and condensed versions of an 'authentic' local experience for tourists who are yearning for 'more'. The talk is based on longitudinal in-depth ethnography on the influencer industry across the Asia Pacific region, most recently culminating in a 4-year project studying influencers as inter-cultural knowledge conduits and brokers funded by an ARC DECRA. Drawing on a larger corpus of case studies from fieldwork in Japan, the talk will focus on empirical data from websites, YouTube, and TikTok. Ethnographic case studies will feature different genres of 'cultural experience influencers' and different types of 'cultural experience agencies'. Initial analyses reveal how cultural experience influencers have carved a niche market for themselves, with retrospective insight on how veteran intercultural influencers engage in reflection and critique on the challenges of working in the industry as the market has become increasingly saturated. Examinations of the vision and initiatives offered by cultural experience agencies provide a schema for how they work to engage with intercultural influencers, how they establish themselves as reputable intercultural agencies, and how they broker notions of cultural authenticity in their marketing. 
Biography
Professor Crystal Abidin is an anthropologist and ethnographer of internet cultures, focusing especially on influencer cultures, internet celebrity, online visibility, and social media pop cultures, especially in the Asia Pacific region. Crystal has published extensively in academic and popular media outlets, with over 80 articles and chapters on various aspects of vernacular internet cultures, and her sixth book is TikTok and Youth Cultures (forthcoming 2023, Emerald Publishing). Crystal is Professor and ARC DECRA Fellow in Internet Studies at Curtin University, and Director of the Influencer Ethnography Research Lab (IERLab). Reach her at wishcrys.com.
---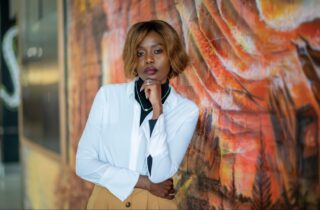 Decolonising your research: Designing anti-racist methodologies & frameworks
Presented by Kathomi Gatwiri
Tuesday 1 August 2023
Doing research is a privilege. We investigate phenomena and produce new knowledge that has real implications for policy and practice. In so doing, we occupy a seemingly objective and unbiased position through this knowledge-production process. But how can we tell when we are unwittingly reproducing ideas rooted in the same systems we try to resist daily?  How can we tell if ideologies of white supremacy and epistemic coloniality have unconsciously influenced how we design our research or interpret and analyse our data? In this two-hour workshop, A/Prof Kathomi Gatwiri from Southern Cross University offers strategies that can prompt you to rethink how to redesign your research outside the dominant modalities of knowledge production.
Bio
A/Prof Gatwiri is an award-winning researcher and one of Australia's leading Afrodiasporic scholars whose research investigates the intersecting topics of racial trauma, belonging, blackness, and migranthood. She has received numerous awards for excellence in research and community service, including a Vice-Chancellor's Award in Research Excellence and Outstanding Community Impact. Dr Gatwiri is an ARC DECRA Fellow at the Centre for Children & Young People (CCYP), at Southern Cross University, President of the peak body Australian Women & Gender Studies Association (AWGSA) and a practising psychotherapist. She is the Founder and Director of Healing Together, a service that provides therapeutic support for people impacted by racial trauma.
This presentation is supported by the Centre for Culture and Technology (CCAT) and the Centre for Australia-Africa Relations.
This presentation was not recorded on purpose.
---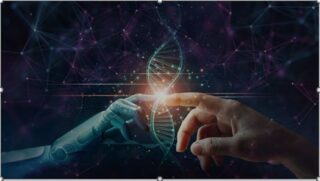 Visions of desirable futures: AI imaginaries and news media
Tuesday 25 July 2023
This presentation is support by the Centre for Culture and Technology (CCAT) and the Gender Research Network (GRN) and examines Artificial Intelligence (AI) imaginaries of race and gender within the context of news media. The AI sector has long battled ethical issues of racial and gender discrimination and bias. Efforts to address these issues have largely proved insufficient as they continue to emerge in new and different forms, as we are now seeing with the increasing use of generative AI. Also concerning is the relatively little critical attention being directed towards the use of AI in the news media industry. This lack of attention is significant given the influence that news media wield in shaping social norms and values, as well as reports about embedded racial and gender discrimination and bias within the news media industry itself. Further, as AI is present in the news media industry, and news media play a key role in reporting news about AI to the public, the two have a symbiotic relationship that warrants deeper interrogation.
Efforts to address racial and gender discrimination and bias within AI have been complicated by imaginaries of AI technologies as 'neutral' and 'objective'; descriptors which are also shared by the news media industry. These assumptions of neutrality and objectivity problematically ignore the ways that prevailing attitudes towards race and gender sit deep within the social systems and cultures that shape both sectors.
Employing a sociotechnical imaginaries framework, I present a theoretically driven critique of how AI imaginaries and the news media constitute "performed visions of desirable futures" (Jasanoff, 2015). It is by unpacking these imaginaries that we can gain a better understanding of how to address these broader issues of discrimination and bias both in AI and the news media.
Bio
Kai-Ti Kao is a PhD candidate and researcher with the School of Media, Creative Arts & Social Inquiry (MCASI) and the Centre for Culture and Technology (CCAT) at Curtin University. She is interested in social engagement with digital media, particularly in relation to power, representation and inequality, and has published on topics including disability access and representation, policy framing of communication technologies, digital engagement and mental health, and intersectional and cross-cultural representation. Her PhD research examines the sociotechnical imaginaries of artificial intelligence (AI) in the context of the news media. When it comes to thinking about the future, she's more concerned with humans than AI.
---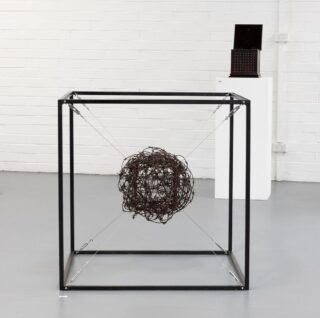 Curtin artist wins international Gadim scholarship for practice-led research on disability representation.
Thursday 22 June 2023
Global media and disability alliance Gadim has awarded Curtin University visual artist Michael Miocevich with a sought-after scholarship to advance his disability representation works.
Presented in June 2023 by leading international media and disability scholar, Global Alliance for Disability in Media and Entertainment co-director and co-founder Professor Beth Haller, the scholarship will help disability-arts scholar Miocevich advance practice-led research on disability representation.
The Curtin Bachelor of Arts (Honours) student is an associate member of the Curtin Centre for Culture and Technology, CCAT, and part of the disability-and-the-media and fine-arts fields at the university. He shares his work online at @ozmikeart on Instagram.
CCAT director Professor Katie Ellis said Miocevich's honours project highlighted the importance of disability inclusion in the arts.
"Miocevich and his research are a logical match for Gadim as the alliance also takes a critical perspective on disability representation and narratives of disability in the arts."
As Miocevich explains: "So much of earlier art saw the use of aesthetics and idealised perfection in the human body to present ideals of beauty, divinity, strength, character and power. By contrast, works used to show evil, corruption, cruelty, greed and those who possessed a bad character as warped, deformed or malign, often incorporating physical disabilities as a method of portraying these themes.
As a student with disability, Michael's work is informed by what some describe as lived experiences, in addition to historical research and experimentation with different creative methods.
Miocevich's co-supervisor, CCAT research fellow and multidisciplinary disability scholar Dr Gwyneth Peaty said "the interplay between these elements is leading the project down a fascinating path and the scholarship will play an important role in supporting this journey."
Miocevich said, "I use critical analysis of existing artworks made during many periods of fine art to help me create a body of work which incorporates or pushes back against the narratives which are being presented by the historical works."
International organisation Gadim has its origins at the United Nations and is a not-for-profit alliance that advocates for greater visibility, representation, and accessibility in news and entertainment media. It was created by journalists Prof Haller and Brazil-based Patricia Almeida, and Australian lawyer and disability board director Catia Malaquias to promote the inclusion of people with disabilities in mass media worldwide.
Gadim's mission is to advance the awareness-raising ambitions of article 8 of the United Nations Convention on the Rights of Persons with Disabilities (CRPD).
On 15 June, Miocevich gave a CCAT Adventures in Culture and Technology Seminar Series presentation on his work so far. It was followed by a question-and-answer discussion about art, media and disability with his supervisors, Dr Peaty and multidisciplinary artist Dr Kieron Broadhurst.
Gadim co-founder Prof Haller presented Miocevich with the scholarship at this event, which was also streamed online for an international audience.
---

Language Endangerment and Social Justice
Presented by Professor Umberto Ansaldo
Thursday, 20 April 2023
In the last three decades, our awareness of endangered languages has grown steadily. From a highly specialised field owned by a handful of linguists, endangered, minority, and indigenous languages have become a topic of scientific inquiry, social policy, and community activism. The rapid rise of technologies in support of documentation has allowed a much wider public to engage and exchange knowledge, as can be seen in many digital platforms used as conservation archives. In this talk I first look at the scholarly foundations of the field, which help understand the intellectual significance of this area of inquiry. I then review the structures and practices that have evolved surrounding documentation. And I finally discuss the relevance of the field of endangerment for our engagement with social justice.
---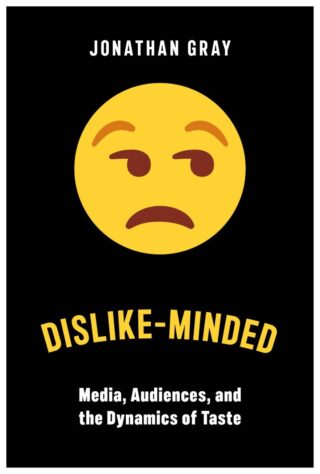 Dislike-Minded: Media, Audiences, and the Dynamics of Taste
Presented by Professor Jonathan Gray
Wednesday 22 February 2023
Media, cultural, and communication studies of the past few decades have produced no shortage of accounts of fans, and of why people love what they love. And increasingly more is being said of hate and trollery. But still relatively little has been said about principled, impassioned dislike. Are dislikers just snobs, as Pierre Bourdieu told us? In this talk, I move beyond this singular explanation, and draw from over 200 qualitative interviews to offer a number of observations and conclusions about what dislike tells us, and why and how it matters as its own affective response to media.
Excited advertising rhetoric tells us we're in an age of on demand consumption, where each one of us gets what we want when we want it. But we're all still regularly hearing songs we "hate," having screen media chosen for us, inhabiting public space that is semi-colonized by major brands, franchises, and celebrities, and being subjected to as much or more than we actively select. My talk will focus on what a study of interactions with such media can tell us about relationships between identity, power, media, and reception, and about people's expectations for improved and better media.
Presenters bio:
Jonathan Gray is Hamel Family Distinguished Chair in Communication Arts at University of Wisconsin – Madison, USA. Much of his work examines the points of interaction between audiences and texts, with particular interest in television, political entertainment, comedy and satire, and their audience reception. His books include Dislike-Minded: Media, Audiences, and the Dynamics of Taste, Television Goes to the Movies (with Derek Johnson), Television Studies (with Amanda D. Lotz), Show Sold Separately: Promos, Spoilers, and Other Media Paratexts, Television Entertainment, and Watching with The Simpsons: Television, Parody, and Intertextuality. An ICA Fellow and a past Peabody Awards Board of Jurors members, he is also Chief Editor of International Journal of Cultural Studies and co-editor of NYU Press' Critical Cultural Communication series.