News
Scholarships available now
1.  RTP2021 Round 2 Animalities
For more information, follow this link.
2. RTP2021 Round 2 Posthumanist Environments
For more information, follow this link.
Description/Applicant information
Over the last few decades, the status of 'the human' has been challenged on a number of fronts. Scientific knowledge of animal culture, mind and behaviour has questioned presumptions of human uniqueness. New media, robots and other technologies have transformed our sociality, producing new ways of living, dying and communicating with nonhuman others. Climate change and the Anthropocene thesis have brought to the fore our embeddedness in a wider environment subject to entangled processes of construction, destruction and extinction. And with these reconfigurations of the place of the human come questions about the capacity of traditional humanities scholarship to adequately account for these new dimensions to its object of study.
Aiming at understanding these challenges to the status both of the human and the humanities, the Posthumanities, Animalities, Environments research program is dedicated to identifying the constraints and the opportunities these cultural and intellectual developments broach. Working at the overlap of three fields of contemporary scholarly innovation — the posthumanities, the animalities, and the environmental humanities — the program seeks to develop transformative concepts and methods for humanities research in the Anthropocene.
Key problems tackled by this program include:
· understanding the role, status, potential and limits of human values and human agency in today's changing world of new relationships, technologies, knowledge and risks.
· formulating and assessing new methodological practices appropriate to the changing human condition and to the changing demands of humanities research.
· identifying how to anticipate and respond to the challenges posed to contemporary political, social, economic and conceptual systems by an increasing recognition of human entanglement with nonhuman systems, forces and entities.
· determining the potential to compose new relations with various others—animals, machines, things, environments—and how to anticipate and evaluate the effects of these relations.
Applications are sought from candidates with Honours level undergraduate training in concepts and methods from cultural studies, critical theory, posthumanism, science and technology studies, animal studies, and/or the environmental humanities to engage in research one of the following areas:
RTP2021 Round 2 Animalities – for more information, follow this link.
RTP2021 Round 2 Posthumanist Environments – for more information, follow this link.
---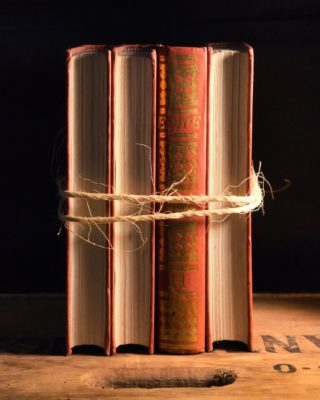 The International Encyclopedia of Gender, Media, and Communication
Recently published book with chapter, Non-Normative Characters: Disability, written by Prof. Katie Ellis https://onlinelibrary.wiley.com/doi/10.1002/9781119429128.iegmc172
July 2020
Abstract
Critical disability studies recognizes disability is culturally constructed as existing outside the bounds of normality. Rosemarie Garland‐Thomson identifies the way disabled bodies are constructed in culture as extraordinary or non‐normative. While disabled characters in film and television continue to be isolated, pathologized, and represented as being unable to be socialized and fully integrated into society socialized, new opportunities for representation are emerging via social media. Drawing on Garland‐Thomson's framework of the stare and Stella Young's critique of the media's preference for inspirational narratives (so called inspiration porn) this entry highlights a number of examples of non‐normative characters evident in US, UK, and Australian media as they offer critiques of disabling society, contemporary beautyism, and the unattainable strive for the cultural ideal.
---
Targeted PhD Projects with Scholarship in Internet Studies at Curtin University
(to start 2021, applications close 1 September)
July 2020
Opportunities exist to apply for a range of targeted PhD scholarships located within the Internet Studies Discipline at Curtin University. The window of  opportunity for these is short, so if you're interested, please email the contact person listed in the specific project pages as soon as you're able!
Please share these opportunities with current and recent Masters and Honours completions (and those completing this year).
The projects available:
To apply for these project opportunities applicants must submit an email to the contact Project lead listed on the project listing. The email must include their current curriculum vitae, a summary of their research skills and experience and the reason they are interested in this specific project.
The Project Lead will select one preferred applicant for this project and complete a Primary reference on their behalf.
After confirmation from the Project Lead that they will receive a primary reference for this project the applicant must submit an eApplication [https://study.curtin.edu.au/applying/research/#apply] for admission into the applicable HDR course no later than 1st September 2020.
All applicants must send an external referee template [https://scholarships.curtin.edu.au/wp-content/uploads/sites/8/2020/07/RTP2021-Round-2-External-Referee-Report.pdf] to their chosen external reference.
All references are confidential and must be submitted by the referee directly to HDRSCH-applications@curtin.edu.au no later than 1st September 2020.
Scholarship applications submitted without a primary reference or a completed application for admission will be considered incomplete.
For further information on the application process or for more RTP2021 Round 2 scholarship project opportunities visit: https://scholarships.curtin.edu.au/hdr-scholarships-funding/rtp-policy/ 
Apply now!
---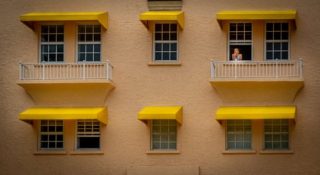 Recent publication
Disability, communication, and life itself in the COVID-19 pandemic
July 2020
ABSTRACT
In this article we offer an analysis of a deeply problematic and troubling dual aspect of the COVID-19 pandemic: how disability is being understood within normative accounts of health and medicine to frame, interpret, and respond to its spread and implications; what are the terms of inclusion and exclusion in altered social life in the COVID crisis; and how people with disabilities fare. We find disturbing indications of disablism and oppressive biopolitics in the 'enforcing of normalcy' that frames and dominates COVID reconstruction of social life – a situation that we suggest needs urgent deciphering, critique, and intervention.
To read the full publication please follow this link to the Taylor & Francis Online site.
---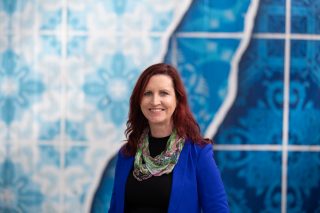 Senate Select Committee on COVID-19: Acknowledgement of publication
Inquiry into the Australian Government's response to the COVID-19 pandemic
June 2020
Congratulations to Professor Katie Ellis who recently received notification from the Senate Select Committee on COVID-19 advising that her submission has been published and it is available under Centre for Culture and Technology on the committee webpage at the following link: https://www.aph.gov.au/Parliamentary_Business/Committees/Senate/COVID-19/COVID19/Submissions.
Parliamentary privilege
As a committee document, and proceeding of Parliament, the version of your submission as it appears on the website is protected by parliamentary privilege. Parliamentary privilege refers to the special rights and immunities attached to the Parliament or its members (and witnesses) which are necessary for the discharge of parliamentary functions. Parliamentary privilege protects both Parliamentarians and witnesses before committees from civil or criminal action in a court or tribunal in respect of what they have said or done in the course of parliamentary proceedings and protects those proceedings themselves from challenge or question in a court or tribunal.
It is unlawful for anyone to threaten or disadvantage a witness on account of evidence given to a committee, and such action may be treated by the Senate as a contempt. It is also a contempt to give false or misleading evidence to a committee.
If you believe that anyone has disadvantaged you as a result of the submission you have made, please contact the committee secretariat.
Further information regarding parliamentary privilege is available from Senate Brief No. 11 – Parliamentary Privilege on the Australian Parliament website.
The committee is due to present a final report to the Senate on 30 June 2022. A copy of the report will be made public on the committee webpage.
---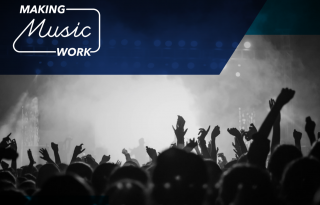 Making Music Work
2020
We are delighted to report that the ARC Linkage project Making Music Work: Sustainable Careers for Australia Musicians is now complete.
We launched the project's final industry report at an online event recently with musicians, industry professionals, academics, and partners from across Australia. If you would like to access a recording of the launch, please email: qcrc@griffith.edu.au
Making Music Work has mapped the creative, social, cultural, and economic realities of the portfolio music career in Australia, and drawn on insights from over 600 musicians to provide a nuanced and granular understanding of their working lives, career trajectories, creative aspirations, and economic circumstances.
While this research was completed prior to the COVID-19 global pandemic, its findings indicate why music has been among the first and hardest hit industries in the current health crisis, and could be among the slowest to recover. As such, our findings provide significant insights for musicians, as well as the music and broader arts sectors both now and into the post-COVID-19 recovery phase.
Our website has been updated with our suite of industry outputs, which are all free to download. This includes a 100+ page industry report, a summary brochure, a package of fact sheets from our survey findings, and a suite of musician profiles from our interviews. You can click on the thumbnails below to directly access these outputs. These will be hosted on our website and available for download for three years.
In addition to our outputs, you might be interested to read a story about our research in The Australian this week (featuring one of our participants Danielle Bentley) and a piece the team have written in The Conversation.
We will continue to publish on a range of themes stemming from our findings in the coming years, and will share these outputs with you via our Making Music Work social media channels. We encourage you to also consider how you might wish to build on the findings and recommendations of this project, and we would be happy to hear from you to discuss any ideas. You can contact the Research Team via the Queensland Conservatorium Research Centre, Griffith University at qcrc@griffith.edu.au
Warmest wishes,
Professors Brydie-Leigh Bartleet and Dawn Bennett
(on behalf of the Making Music Work team, Professors Brydie-Leigh Bartleet, Dawn Bennett, Ruth Bridgstock, Scott Harrison, Vanessa Tomlinson and Paul Draper, and Research Fellow Dr Christina Ballico).
Making Music Work is an initiative of Queensland Conservatorium Research Centre (QCRC), Griffith University, with industry partners, Australia Council for the Arts, Create NSW, Creative Victoria, Western Australian Government – Department of Local Government, Sport and Cultural Industries (DLGSC), and institutional partner Curtin University. The research team includes Professor Brydie-Leigh Bartleet, Professor Dawn Bennett, Professor Ruth Bridgstock, Professor Scott Harrison, Professor Vanessa Tomlinson, Professor Paul Draper, and Research Fellow Dr Christina Ballico. It was supported by the Australian Research Council as a Linkage project.
---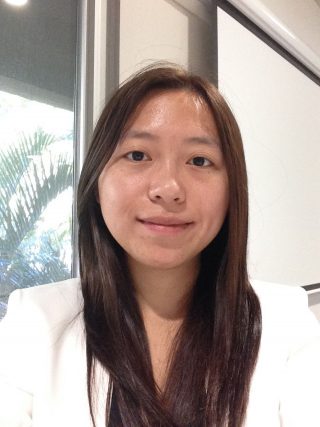 PhD Graduate Dr He Zhang and Dr Qian Gong poster receives ICA Conference Division Award
2020
Previously scheduled to take place in the beautiful Gold Coast, this year's 70th International Communication Association (ICA) Annual Conference made history by going entirely virtual amid the COVID-19 pandemic. MCASI PhD graduate Dr He Zhang and Dr Qian Gong of the School of Education, who both have been active members of CCAT, had their paper titled "Reskilling" through Self-representation in a Digital Storytelling Project for Chinese International Students in Australia accepted by the Language and Social Interaction Division and received the Division's Top Poster Award. As a response to Duke University administrator's email warning Chinese international students not to speak Chinese in common areas, the paper discusses the potentiality of the participatory and creative practice of Digital Storytelling for constituting an alternative English experience for Chinese international students in Australian higher education. Using data collected in a series of Digital Storytelling workshops Dr He Zhang held in Perth for her PhD study, it took ideological and linguistic views of English uses in intercultural communication. According to its findings, Digital Storytelling enables an English "reskilling" process in which EAL students may rediscover their English abilities and hence reaffirmed the advantage of cross-cultural experience for study abroad. Practically, it proved a feasible choice of language pedagogy in educational institutions.
Follow this link to view the poster and listen to the presentation.
---
Seeking survey participants: Supporting students with disabilities to succeed in and after higher education
2020
NCSEHE (National Centre for Student Equity in Higher Education) Equity Fellow Tim Pitman is currently seeking survey respondents for his 2020 project on supporting students with disabilities to succeed in and after higher education.
Overview
This project is being conducted by Tim Pitman (Curtin University) and is funded by a grant from the NCSEHE.
Tim is investigating how Australian universities can best support students with disabilities, during their studies and beyond.
He would like to know what barriers students with disability face, both at university and when getting the work they want after graduation.
Tim wants to hear from students with disability as well as staff working in higher education institutions, regardless of whether or not their job role involves supporting students with disability.
Students completing the student survey will be eligible for entry into a prize draw. There will be ten winners, each receiving a $100 Amazon gift voucher.
Follow this link to the NCSEHE website to do the survey.
---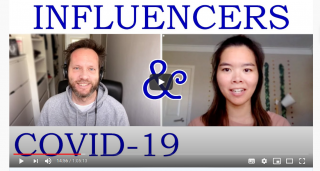 Influencers & COVID-19
2020
Follow this youtube link
to watch Martin Arvebro (MA) and Crystal Abidin (PhD) discuss how the influencer business is handling the Covid-19 pandemic? How is information about the virus spread through social media? How can we make use of the quarantine and self-isolation time to reevaluate what it means to be an influencer?
Dr. Crystal Abidin is an anthropologist and ethnographer of Internet cultures, a senior researcher at Curtin University in Perth, Australia 
Martin Arvebro  has made youtube videos since 2006, and vlogged since 1999. You can find videos about Norse Mythology, my deep-talk series Good Talk (which now has its own channel) and other info about Sweden and Swedish culture.
Instagram: TheSwedishLanguage
Outro graphics by Oliver Holmgren & Erica Svejderud.
---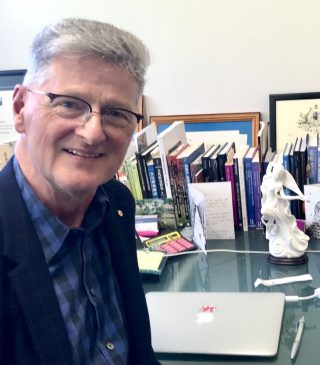 Congratulations!
2020
Bloomsbury Academic have offered a contract for a new book, On the Digital Semiosphere: Juri Lotman Meets the Anthropocene, by John Hartley, Indrek Ibrus and Maarja Ojamaa. This is the third volume in a 'cultural science' series, following Cultural Science: A Natural  History of Stories, Demes, Knowledge and Innovation (John Hartley and Jason Potts, 2014); and How We Use Stories and Why That Matters: Cultural Science in Action (John Hartley, 2020). The latest volume is complete and ready for production, so should be published later in 2020.
These are three substantial monographs, working through the intellectual/analytical issues. It seems that there never was a better time to theorise the digital semiosphere than now, when humans must at last confront the realities of 'one planet, one species'.
Here's the good bit: Bloomsbury Collections is free and open for general access. Both of the already-published books are available on this platform gratis: Cultural Science; How We Use Stories.
---
Discovery Project funding awarded
2020
In collaboration with Nigel Rothfels (University of Wisconsin Milwaukee) and Nelly Mäekivi (University of Tartu), Matthew Chrulew (WCS, CCAT) has been awarded $201,786 in the latest round of Discovery Project funding for the project "Rethinking Zoo Biology: The Histories, Effects and Futures of Captivity". The three-year project aims to transform our understanding of the captive management of wild animals using interdisciplinary approaches to the intersection of human and animal lives
---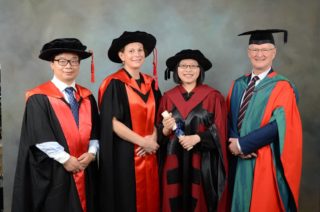 Graduation – Dr He Zhang
Congratulations to CCAT's latest PhD graduate Dr He Zhang (Jan Zhang)! Dr Zhang's PhD dissertation topic was: Self-representation of Chinese Migrants Using Digital Storytelling for Social inclusion. To celebrate the conferral of her Doctoral degree we asked Dr Zhang a few questions:    
1. Why did you decide to do a PhD?
I developed the interest in research during my postgraduate study. However, I was not sure about doing a PhD until I worked as a news editor in Shanghai for a year. At that time, I found the area that I was keen to doing research in – digital culture. The Chinese society was and still is going through a series of transformations due to people's take-up of digital technology in many aspects of everyday life. The speed of technology upgrade and people's adoption is unbelievable. As time went, the picture of doing a PhD in this area became clearer and clearer in my mind. So, when the opportunity eventually appeared, I didn't hesitate to accept it.
2. What did you find most challenging about the PhD process?
I think the most challenging part is to make the materials I collected 'speak' to me. As a researcher, my assumptions are always challenged by the collected materials. That is when I need to be focused, patient, open-minded and honest in order to quiet down the assumptions and discover through data.
It was also challenging to figure out what we want to do in a PhD. Although we need advice from supervisors, it is important we figure this out on our own first. Otherwise the communication with supervisors can be ineffective, even confusing sometimes.
3. What did you enjoy the most?
The numerous moments of thinking through a point after discussing with supervisors, attending a seminar or walking on the campus. Sometimes they led to completion of a paragraph or a chapter, but most times they did not. In spite of this, this enjoyment of thinking and 'tinkering' makes me believe I have chosen the right path.
But they cannot compete with thesis submission, of course.
4. What advice would you give to students beginning their PhD journey?
My advice: do not hasten to make conclusions about what you may find through a PhD topic. It is natural that your understanding changes along the journey. The change is also a good sign – you have kept yourself well-informed about what you are researching.
---
Candidacy presentation by Qing Wang
Women starting-up in the digital creative industries in China
Abstract
Throughout history technology is associated with pioneers, and most of these pioneers have been male. It's not well known, however, that Ada Lovelace (1815 – 1852), the daughter of the English poet Lord Byron was a pioneer of computing technology. The interesting connection to note here is her relationship with culture, namely, the refined world of the arts. In this project I look at the relationship between culture and technology (or, culture + technology) as it applies to female practitioners in China.
The creative industries are used to be considered as 'lying at the crossroads between the arts, business and technology'[1]; and as technological elements have increasingly come to the fore we have seen a shift to focus on so-called 'digital creative industries'. This merging of culture and technology levels the playing field between genders and different income groups. We now see many people, especially younger generations, embracing creativity, digitalization, and entrepreneurism. Research on working patterns in creative sectors also has identified a close relationship between creative industries and entrepreneurship (see also: Baines & Robson, 2001; Higgs & Cunningham, 2008). Entrepreneurs are the key agents in the creative industries, and the quality of entrepreneurship affects the dynamics of this sector(Hartley et al., 2013, pp. 92-93).
This study chooses China as the research site. As a sector characterized by artistic, creative, innovative, and cultural, creative industries in China have grown rapidly over the past few years. What's more important is that China is experiencing a digital transformation, whose speed, scope, and scale of growth and development receive much attention from the world. In order to take advantage of the increasing grassroots innovation in the digital age, for instance the popular Maker Movement, the Chinese government is promoting 'Mass entrepreneurship and innovation', trying to develop an entrepreneurial ethos and attract broad participation to gain robust dynamics.
In this context, and in response to United Nation's development goal to 'achieve gender quality and empower all women and girls', I look at the female participation in digital creative start-ups and the emergence of female entrepreneurs in creative sectors, to identify their practices. This thesis will thus make a contribution to the knowledge of the creative industries, and will advance our understanding of the dynamics and structures that allow gender diversity, an innovative culture and entrepreneurial skills to develop.
---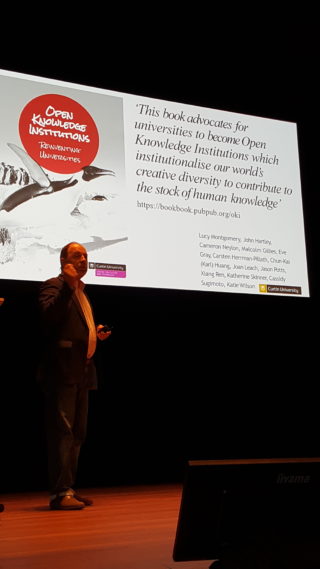 Open Knowledge Institutions: Reinventing Universities book went live
'This book advocates for universities to become Open Knowledge Institutions which Institutionalise our world's creative diversity to contribute to the stock of human knowledge'
https://bookbook.pubpub.org/oki
This book is available in Open Access via an interactive commentary platform developed by MIT Media Lab run by MIT Press.
Can 13 authors, from the USA, Germany, Australia, China and South Africa, many previously unknown to one another, get together and, from scratch, write a 150-page book –– on a topic none of them has tackled before –– in 5 days?
If the group in question is committed to the same goals as MIT's PubPub platform, to "socialize the process of knowledge creation"; and if the process they use is a Book Sprint, a professionally facilitated "collaborative process that captures the knowledge of a group of experts in a single book," then the answer is yes.
What drew our diverse group together is "open knowledge." By this we mean not just the technical specifics of open access publishing or open source computing, and not just a general commitment to an open society, open government or open science, but a need to understand how these technical and social possibilities can be brought together in open knowledge institutions.
Specifically, how can the most long-lasting, successful and expanding version of a knowledge institution –– the university –– face the mounting challenges of global, digital and contested knowledge systems, in order to transform universities into Open Knowledge Institutions?
We present the results of our work here to the wider community for annotation, commentary, constructive criticism and engagement, with a view to extending the collaborative spirit further. We want the book to gain further analytical richness and precision from crowd-sourced expertise. You are invited to join us as we work through some of the issues that may enable or stand in the way of socialising knowledge itself.
Visit the London School of Economics and Political Science blog site for further information.
Also featured on the European Commission's Responsible Research and Innovation Toolkit.
---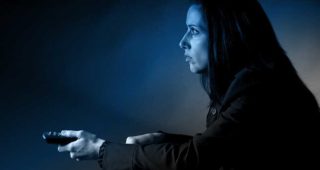 Australian TV well behind in accessibility for vision impaired
August, 2018
More than 453,000 Australians are known to live with blindness or vision impairment. Despite this substantial number, Australia remains the only English-speaking OECD country in the world that doesn't require its broadcasters or streaming services to provide audio description.
Most English-speaking countries introduced such mandatory legislation at least 10 years ago. In addition, according to Article 30 of the United Nations Convention on the Rights of Persons with Disabilities – Australia is required to ensure people with disabilities can "enjoy access to television programmes, films … and other cultural activities, in accessible formats".
Why is Australia so far behind?
"We really missed opportunities when we transitioned from analogue to digital television," says Associate Professor Mike Kent, the Acting Head of Curtin's School of Media, Creative Arts and Social Enquiry. Read the full interview.
For more information visit Audio Description Discussion in Australia website.
---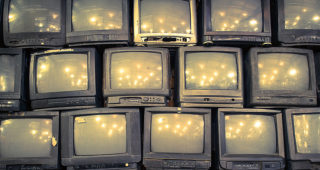 Ground-breaking TV studies book turns 40
July 18, 2018
In 1978, humanities scholars worldwide were profoundly affected by the release of Reading Television, a book by UK Professors John Hartley and John Fiske, who had drawn on the new sciences of semiotics and linguistics to analyse how TV was playing such an important role in Western culture.
The book challenged the dominant thought of scholars at the time – that TV was not worthy of cultural study – and went on to have an astonishing impact, catapulting both professors to research fame and helping to establish television studies as a new field of research.
In celebration of Reading Television's 40th anniversary, we chatted to Professor Hartley, now the cultural science program leader for Curtin's Centre for Culture and Technology, a Member of the Order of Australia and a John Curtin Distinguished Professor, about his memories of writing the book, his thoughts on its impact and his current research. To read the full interview follow this link.
---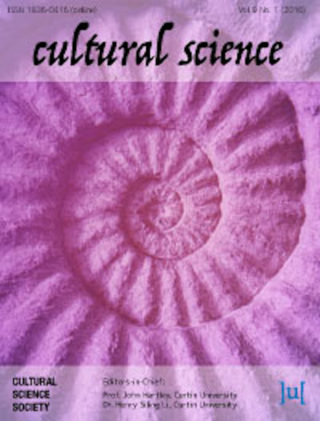 Our very own Cultural Science Journal has been re-launched!
Cultural Science Journal is an interdisciplinary journal, taking advantage of recent advances in evolutionary and complexity sciences, to investigate cultural systems at micro (agent), meso (institution) and macro (network) scale. We are interested in the production of new ideas and knowledge, especially across disputed borders between systems, groups and identities.
Call for papers!
Cultural Science Journal is delighted to announce its successful migration to the Ubiquity Press platform. We are now ready to receive submissions and look forward to publishing our first volume with Ubiquity Press (volume 10) in 2018.
---
New project for CCAT Adjunct Burcu Simsek
CCAT Adjunct Researcher A/Prof Burcu Simsek started working as a media expert and researcher in the "Inclusive Early Childhood Education for Children with Disabilities" Project that is a European Union Funded research and implementation project that will be conducted by UNICEF in cooperation with Ministry of Education in Turkey in 2017-2020.
---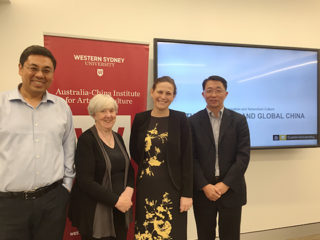 Do Books have a Future? Research Workshop on Automated Knowledge and Autonomous Publishing Infrastructure
On 2-3 November 2017, CCAT Director Lucy Montgomery delivered a well-received research seminar at ACIAC, Western Sydney University.  She was joined by CCAT Adjunct Xiang Ren on a panel discussing open knowledge and publising.  Full article here.
---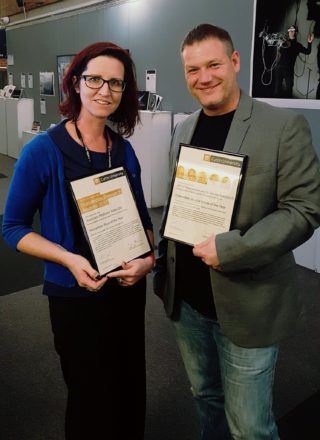 2017 Humanities Research Celebration
Congratulations to all for a wonderful afternoon celebrating our research.  A special congratulations to our CCAT Researchers, who were awarded the following prizes:
Book of the Year – General (joint winner)
Katie Ellis (MCCA) Disability Media Work: Opportunities and Obstacles
Journal Article of the Year – General
Tama Leaver with Tim Highfield (MCCA) Instagrammatics and Digital Methods: Studying Visual Social Media, from Selfies and GIFs to Memes and Emoji.
There was also a HDR Research Poster competition, where prizes were awarded for the poster that best showcased aspects of a Higher-Degree Research Project.  CCAT's PhD student Shanshan Liu won the People's Choice Award, with her poster titled "Visual Social Media Vernacular Responses to the environmental Issues in China".
Well done Katie, Tama and Shanshan!
---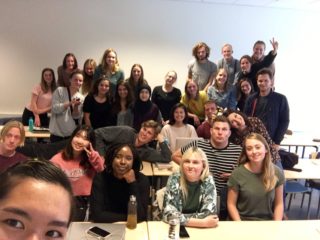 CCAT Adjunct Crystal Abidin Guest Professor in Denmark
From 31 July to 11 August 2017, CCAT Adjunct Research Fellow Dr Crystal Abidin was invited to be Guest Professor at the "Digital Living: Identities and Complexities" Summer School at Aarhus University in Denmark. As an interdisciplinary course open to students in Aarhus University and abroad, Crystal drew on her expertise to run seminars and give lectures on topics including Internet Celebrity, Internet Antagonisms, and Internet Paralanguages, among other digital media topics. The course was well received by 27 international students and future collaborations with the School of Communication and Culture, Aarhus University are in the works.
---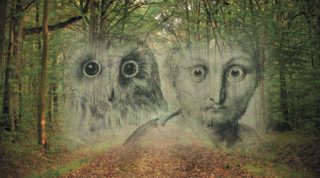 Field Philosophy and Other Experiements – 23/24 June 2017
In June the École normale supérieure in Paris hosted the symposium Field Philosophy and Other Experiments. The symposium drew on contemporary work in the environmental humanities, multispecies studies and philosophical ethology to ask what "field philosophy" might be or become. Participants included Dominique Lestel, Isabelle Stengers, Vinciane Despret, Thom van Dooren, Michelle Bastian, Hugo Reinert, and CCAT's own Matthew Chrulew and Anna-Katharina Laboissière. Organised by Brett Buchanan with help from Dr Chrulew and others, and supported by CCAT, the Edinburgh Environmental Humanities Network and Laurentian University, Field Philosophy was a productive opportunity for interdisciplinary exchange and experimentation. A journal issue arising from the symposium is being edited by Drs Buchanan, Chrulew and Bastian.
---
2016 ARC Success
8 February 2017
CCAT Members have been incredibly successful over the past year receiving the following National Teaching and ARC grants:
ARC DECRA – $363,592 – Dr Matthew Chrulew – Philosophical Ethology – commenced May 2016
ARC Linkage – $263,762 – Prof Dawn Bennett – Making Music Work – 2016-18
OLT Senior National Teaching Fellowship – $250,000 – Prof Dawn Bennett – 2017-18
ARC Discovery – $187,222 – Dr Katie Ellis & Dr Mike Kent – Navigating urban spaces – funding for 2017
ARC Discovery – $249,500 – Prof Michael Keane –Digital China: from cultural presence to innovative nation – funding for 2017
ARC Indigenous Discovery – $312,400 – Prof Kim Scott – Mobilising song archives to nourish an endangered indigenous language – Sydney University – 2017-19.
Congratulations to all involved on an amazing effort!
---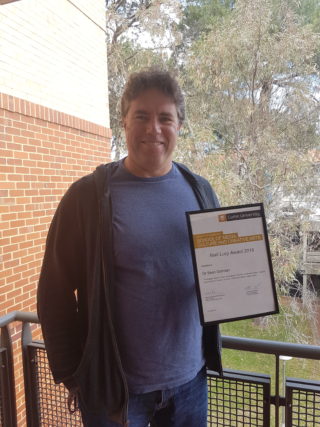 2016 Niall Lucy Award
September 15, 2016

CCAT is proud to congratulate Dr Sean Gorman on winning the 2016 Niall Lucy Award for his work on racism in Australian sport.
The Niall Lucy Award, which includes a $5000 prize, recognizes excellence in publication in any area of Critical and Cultural Theory; Media Scholarship or Popular Music Scholarship. The award, which is sponsored by the school of Media, Culture and Creative Arts, was created in 2015 in memory of CCAT co-founder Professor Niall Lucy.
Dr Gorman authored a Special Issue of Sports in Society: Cultures, Commerce, Media, Politics with Dean Lusher and Keir Reeves, titled "The Biggest Game in Town: An Analysis of the AFL's Vilification Policy". The special issue is one of the outputs of an Australian Research Council Linkage project examining Indigenous and multicultural diversity and masculinity in the Australian Football League: a project that has provided the AFL with key recommendations for improving the quality of education programs dealing with diversity across the sport.
In 2015, the Award was won by Dr Matthew Chrulew for his outstanding contribution to the field of philosophical ethology.
---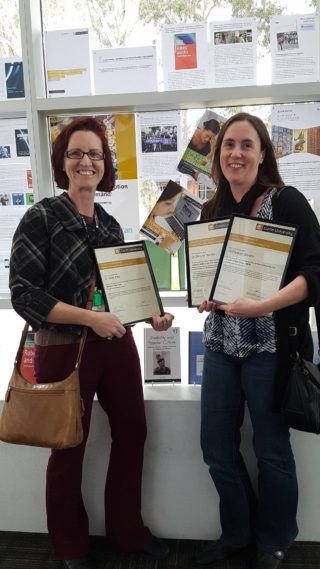 CCAT Researchers Shine in Curtin Humanities Research Awards
September 6, 2016

Once again CCAT Researchers stole the show at the annual Humanities Research celebration! Their wins are testament to their energy, commitment and talent – and we couldn't be prouder.
Dr Katie Ellis took home the prize for Book of the Year for Disability and Popular Culture (Routledge, 2015).
Dr Eleanor Sandry's book Robots and Communication (Palgrave, 2015) won the faculty's award for Best Book by an Early Career Researcher.
Dr Sandry also took home the prize for Best Journal Article by an Early Career Researcher for her article "Re-evaluating the form and communication of social robots: the benefits of collaborating with machinelike robots".
Dr Matthew Chrulew took home the award for Best Book Chapter by an Early Career Researcher for "Genealogies of the Secular".
He also won the prize for Minor Creative Work of the Year (Early Career Researcher Category) for his short story "The Mamontogist's Tale".
Congratulations to all!
---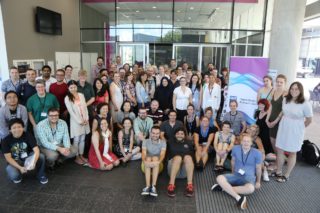 Digital Method Summer School
July 28, 2016
On 15 February 2016, Alkim Ozaygen and Shanshan Liu joined the 2016 Digital Method Summer School hosted by Queensland University of Technology's (QUT) Digital Media Research Centre at Brisbane.  It was a week-long programme and provided an opportunity to learn vital research skills and develop networks with others in the social media research field. Both enjoyed exchanging opinions and sharing knowledge with people from different countries during the week.
---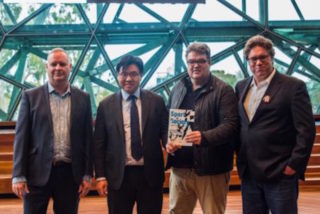 Book Launch:  The Biggest Game in Town: An analysis of the AFL's Vilification Policy
June 30, 2016
Dr Sean Gorman's latest publication The Biggest Game in Town was launched at Deakin Edge in Melbourne's Federation Square on the 25 May 2016. The, book, which was co-authored with Dean Lusher and Keir Reeves, reports on the findings of an Australian Research Council 'Linkage' project led by Dr Gorman. The project examined the Australian Football League's Rule 35: the first code of conduct in the world to be introduced by an elite sporting organization to deal with racial, religious and sexual vilification. The book begins by exploring Australian social and sporting history, before going on to present case studies of nine complete AFL clubs.
The MC for the launch event was well known sports writer and historian John Harms. Speakers included  Brett Johnson, the general manager of player development at the Australian Football Players Association and Mr Chin Tan, Director of Multicultural engagement at Swinburne University.
---