News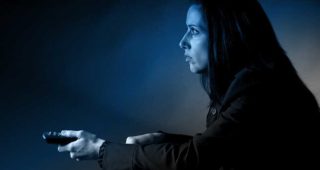 Australian TV well behind in accessibility for vision impaired
August, 2018
More than 453,000 Australians are known to live with blindness or vision impairment. Despite this substantial number, Australia remains the only English-speaking OECD country in the world that doesn't require its broadcasters or streaming services to provide audio description.
Most English-speaking countries introduced such mandatory legislation at least 10 years ago. In addition, according to Article 30 of the United Nations Convention on the Rights of Persons with Disabilities – Australia is required to ensure people with disabilities can "enjoy access to television programmes, films … and other cultural activities, in accessible formats".
Why is Australia so far behind?
"We really missed opportunities when we transitioned from analogue to digital television," says Associate Professor Mike Kent, the Acting Head of Curtin's School of Media, Creative Arts and Social Enquiry. To read the full interview follow this link.
---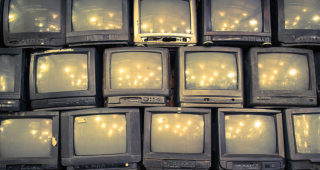 Ground-breaking TV studies book turns 40
July 18, 2018
In 1978, humanities scholars worldwide were profoundly affected by the release of Reading Television, a book by UK Professors John Hartley and John Fiske, who had drawn on the new sciences of semiotics and linguistics to analyse how TV was playing such an important role in Western culture.
The book challenged the dominant thought of scholars at the time – that TV was not worthy of cultural study – and went on to have an astonishing impact, catapulting both professors to research fame and helping to establish television studies as a new field of research.
In celebration of Reading Television's 40th anniversary, we chatted to Professor Hartley, now the cultural science program leader for Curtin's Centre for Culture and Technology, a Member of the Order of Australia and a John Curtin Distinguished Professor, about his memories of writing the book, his thoughts on its impact and his current research. To read the full interview follow this link.
---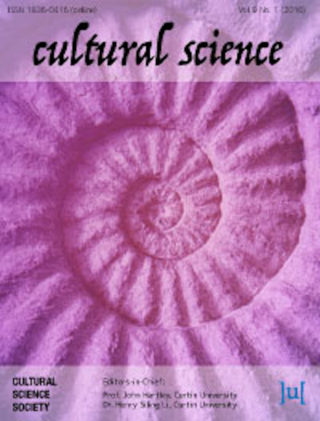 Our very own Cultural Science Journal has been re-launched!
Cultural Science Journal is an interdisciplinary journal, taking advantage of recent advances in evolutionary and complexity sciences, to investigate cultural systems at micro (agent), meso (institution) and macro (network) scale. We are interested in the production of new ideas and knowledge, especially across disputed borders between systems, groups and identities.
Call for papers!
Cultural Science Journal is delighted to announce its successful migration to the Ubiquity Press platform. We are now ready to receive submissions and look forward to publishing our first volume with Ubiquity Press (volume 10) in 2018.
---
New project for CCAT Adjunct Burcu Simsek
CCAT Adjunct Researcher A/Prof Burcu Simsek started working as a media expert and researcher in the "Inclusive Early Childhood Education for Children with Disabilities" Project that is a European Union Funded research and implementation project that will be conducted by UNICEF in cooperation with Ministry of Education in Turkey in 2017-2020.
---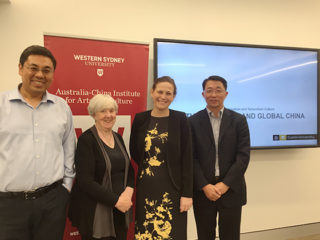 Do Books have a Future? Research Workshop on Automated Knowledge and Autonomous Publishing Infrastructure
On 2-3 November 2017, CCAT Director Lucy Montgomery delivered a well-received research seminar at ACIAC, Western Sydney University.  She was joined by CCAT Adjunct Xiang Ren on a panel discussing open knowledge and publising.  Full article here.
---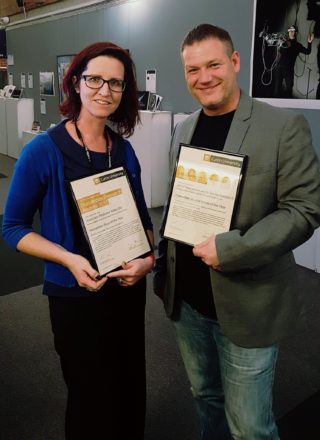 2017 Humanities Research Celebration
Congratulations to all for a wonderful afternoon celebrating our research.  A special congratulations to our CCAT Researchers, who were awarded the following prizes:
Book of the Year – General (joint winner)
Katie Ellis (MCCA) Disability Media Work: Opportunities and Obstacles
Journal Article of the Year – General
Tama Leaver with Tim Highfield (MCCA) Instagrammatics and Digital Methods: Studying Visual Social Media, from Selfies and GIFs to Memes and Emoji.
There was also a HDR Research Poster competition, where prizes were awarded for the poster that best showcased aspects of a Higher-Degree Research Project.  CCAT's PhD student Shanshan Liu won the People's Choice Award, with her poster titled "Visual Social Media Vernacular Responses to the environmental Issues in China".
Well done Katie, Tama and Shanshan!
---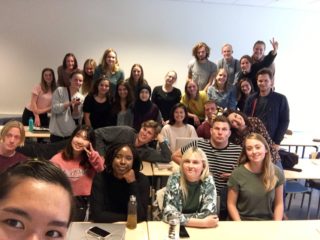 CCAT Adjunct Crystal Abidin Guest Professor in Denmark
From 31 July to 11 August 2017, CCAT Adjunct Research Fellow Dr Crystal Abidin was invited to be Guest Professor at the "Digital Living: Identities and Complexities" Summer School at Aarhus University in Denmark. As an interdisciplinary course open to students in Aarhus University and abroad, Crystal drew on her expertise to run seminars and give lectures on topics including Internet Celebrity, Internet Antagonisms, and Internet Paralanguages, among other digital media topics. The course was well received by 27 international students and future collaborations with the School of Communication and Culture, Aarhus University are in the works.
---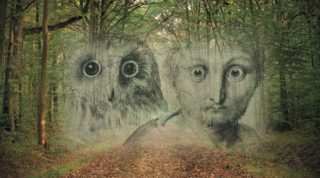 Field Philosophy and Other Experiements – 23/24 June 2017
In June the École normale supérieure in Paris hosted the symposium Field Philosophy and Other Experiments. The symposium drew on contemporary work in the environmental humanities, multispecies studies and philosophical ethology to ask what "field philosophy" might be or become. Participants included Dominique Lestel, Isabelle Stengers, Vinciane Despret, Thom van Dooren, Michelle Bastian, Hugo Reinert, and CCAT's own Matthew Chrulew and Anna-Katharina Laboissière. Organised by Brett Buchanan with help from Dr Chrulew and others, and supported by CCAT, the Edinburgh Environmental Humanities Network and Laurentian University, Field Philosophy was a productive opportunity for interdisciplinary exchange and experimentation. A journal issue arising from the symposium is being edited by Drs Buchanan, Chrulew and Bastian.
---
2016 ARC Success
8 February 2017
CCAT Members have been incredibly successful over the past year receiving the following National Teaching and ARC grants:
ARC DECRA – $363,592 – Dr Matthew Chrulew – Philosophical Ethology – commenced May 2016
ARC Linkage – $263,762 – Prof Dawn Bennett – Making Music Work – 2016-18
OLT Senior National Teaching Fellowship – $250,000 – Prof Dawn Bennett – 2017-18
ARC Discovery – $187,222 – Dr Katie Ellis & Dr Mike Kent – Navigating urban spaces – funding for 2017
ARC Discovery – $249,500 – Prof Michael Keane –Digital China: from cultural presence to innovative nation – funding for 2017
ARC Indigenous Discovery – $312,400 – Prof Kim Scott – Mobilising song archives to nourish an endangered indigenous language – Sydney University – 2017-19.
Congratulations to all involved on an amazing effort!
---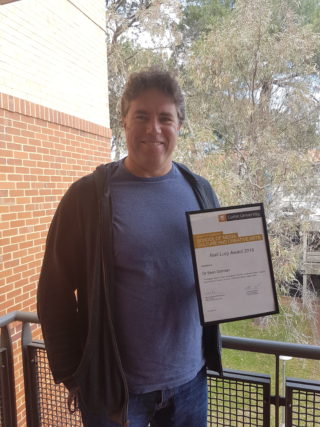 2016 Niall Lucy Award
September 15, 2016

CCAT is proud to congratulate Dr Sean Gorman on winning the 2016 Niall Lucy Award for his work on racism in Australian sport.
The Niall Lucy Award, which includes a $5000 prize, recognizes excellence in publication in any area of Critical and Cultural Theory; Media Scholarship or Popular Music Scholarship. The award, which is sponsored by the school of Media, Culture and Creative Arts, was created in 2015 in memory of CCAT co-founder Professor Niall Lucy.
Dr Gorman authored a Special Issue of Sports in Society: Cultures, Commerce, Media, Politics with Dean Lusher and Keir Reeves, titled "The Biggest Game in Town: An Analysis of the AFL's Vilification Policy". The special issue is one of the outputs of an Australian Research Council Linkage project examining Indigenous and multicultural diversity and masculinity in the Australian Football League: a project that has provided the AFL with key recommendations for improving the quality of education programs dealing with diversity across the sport.
In 2015, the Award was won by Dr Matthew Chrulew for his outstanding contribution to the field of philosophical ethology.
---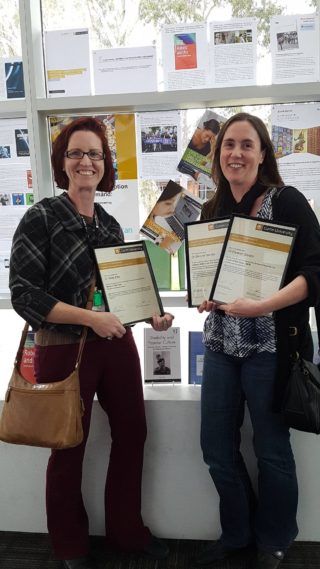 CCAT Researchers Shine in Curtin Humanities Research Awards
September 6, 2016

Once again CCAT Researchers stole the show at the annual Humanities Research celebration! Their wins are testament to their energy, commitment and talent – and we couldn't be prouder.
Dr Katie Ellis took home the prize for Book of the Year for Disability and Popular Culture (Routledge, 2015).
Dr Eleanor Sandry's book Robots and Communication (Palgrave, 2015) won the faculty's award for Best Book by an Early Career Researcher.
Dr Sandry also took home the prize for Best Journal Article by an Early Career Researcher for her article "Re-evaluating the form and communication of social robots: the benefits of collaborating with machinelike robots".
Dr Matthew Chrulew took home the award for Best Book Chapter by an Early Career Researcher for "Genealogies of the Secular".
He also won the prize for Minor Creative Work of the Year (Early Career Researcher Category) for his short story "The Mamontogist's Tale".
Congratulations to all!
---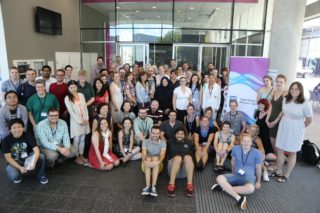 Digital Method Summer School
July 28, 2016
On 15 February 2016, Alkim Ozaygen and Shanshan Liu joined the 2016 Digital Method Summer School hosted by Queensland University of Technology's (QUT) Digital Media Research Centre at Brisbane.  It was a week-long programme and provided an opportunity to learn vital research skills and develop networks with others in the social media research field. Both enjoyed exchanging opinions and sharing knowledge with people from different countries during the week.
---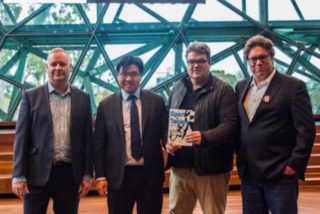 Book Launch:  The Biggest Game in Town: An analysis of the AFL's Vilification Policy
June 30, 2016
Dr Sean Gorman's latest publication The Biggest Game in Town was launched at Deakin Edge in Melbourne's Federation Square on the 25 May 2016. The, book, which was co-authored with Dean Lusher and Keir Reeves, reports on the findings of an Australian Research Council 'Linkage' project led by Dr Gorman. The project examined the Australian Football League's Rule 35: the first code of conduct in the world to be introduced by an elite sporting organization to deal with racial, religious and sexual vilification. The book begins by exploring Australian social and sporting history, before going on to present case studies of nine complete AFL clubs.
The MC for the launch event was well known sports writer and historian John Harms. Speakers included  Brett Johnson, the general manager of player development at the Australian Football Players Association and Mr Chin Tan, Director of Multicultural engagement at Swinburne University.
---