2018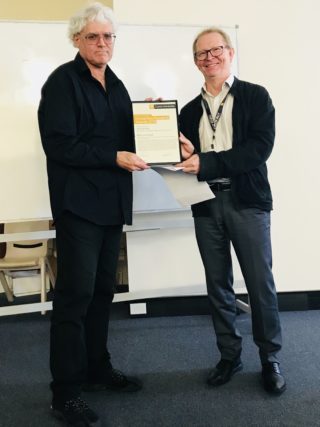 2018 Niall Lucy Award
October 25, 2018
 CCAT is proud to congratulate John Kinsella on winning the 2018 Niall Lucy Award for his book Polysituatedness: A Poetics of Displacement.
The Niall Lucy Award, which includes a $5000 prize, recognizes excellence in publication in any area of Critical and Cultural Theory; Media Scholarship or Popular Music Scholarship. The award, which is sponsored by the school of Media, Culture and Creative Arts, was created in 2015 in memory of CCAT co-founder Professor Niall Lucy
John Kinsella's book Polysituatedness: A Poetics of Displacement. Published in Manchester University Press's Angelaki Humanities series, this volume collects a diverse range of Kinsella's texts that together offer a new theory of place. Expanding his theory of international regionalism, Kinsella develops the concept of polysituatedness to capture the complex way we are situated in multiple relationships to local and global fields of life and language. Kinsella explores the polyvalence of place through a variety of modes: through reflection on his own poetic writing practice and its relationships to place, whether at his home in Jam Tree Gully in the West Australian wheatbelt or from the Cambridgeshire fens; through critical engagement with the writing of others, including the reinterpretation of canonical English literature and the renewed exploration of indigenous and non-indigenous Australian poetry; and through theoretical and philosophical argument. With characteristic verve, Kinsella engages deeply with political and ecological issues of migration and settlement, land rights and mining, restoration and animal life. Through various practices of writing and reading that deepen our understanding of emplacement and displacement, Kinsella makes an original contribution not only to literary fields such as ecopoetics and environmental criticism but also to critical theory and the philosophy of place.